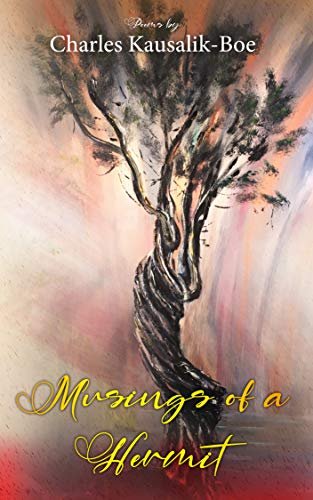 In his collection of poems, Musings of a Hermit, Charles (Chuck) Kausalik-Boe explores seeking the divine through the natural world, cats and chance encounters with others. From the solitude of his tiny inner city home, he watches and reflects on what passes by his porch windows. He also goes within to experience the magic that dwells in his heart and soul. From Chuck's pen flows poetry that is both prayerful and filled with whimsy. Musings of a Hermit is a love song to the divine, the world around us, and to the magic that is possible.
Published:
January 15, 2021
Reviews:
Mystic

on

https://www.amazon.com

wrote:
I thoroughly enjoyed this collection of musings. I incorporate one into my meditation, and then journal my reaction to the poem. "Can Peace Come" was especially poignant given the current temperment in the US at present. This little treasure is a wonderful assortment of thoughts, feelings - both ethereal and frightened, reflexed through the eyes of this talented Tarot Reader and Reiki Master.
One person found this helpful
Sharon L

on

https://www.amazon.com

wrote:
I enjoyed this collection of poems and will reread this book many times. Some of the poems made me smile, some poems touched my soul, some poems invoked the muse in my own life. This is a book well worth owning.
Janet

on

https://www.amazon.com

wrote:
A thought provoking book. There is a poem to match any mood or magic you may need!
ASIN ‏ : ‎ 

B08RN77DLX

Publisher ‏ : ‎ 

POTTER'S WHEEL PUBLISHING HOUSE (January 15, 2021)

Publication date ‏ : ‎ 

January 15, 2021

Language ‏ : ‎ 

English

File size ‏ : ‎ 

1036 KB

Simultaneous device usage ‏ : ‎ 

Unlimited

Text-to-Speech ‏ : ‎ 

Enabled

Screen Reader ‏ : ‎ 

Supported

Enhanced typesetting ‏ : ‎ 

Enabled

X-Ray ‏ : ‎ 

Not Enabled

Word Wise ‏ : ‎ 

Not Enabled

Sticky notes ‏ : ‎ 

On Kindle Scribe

Print length ‏ : ‎ 

72 pages